A group of businessmen awake in a forest for the trial they never saw coming. Featuring a life-sized ox puppet, animation and dance, an emerging theatre company from NYC brings you an absurd look into 'business as usual' amidst global destruction.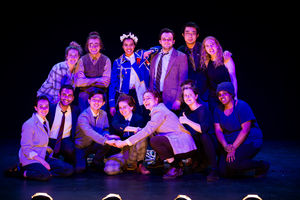 The Oof Theatre Collective met at Sarah Lawrence College, a liberal arts college outside of New York City. They found each other as like-minded wacky, enthusiastic creators who enjoy making work collaboratively through a multidisciplinary, physical and silly, yet rigorous, creative process. They have all worked together since Spring of 2018, though many of the members have worked together in different capacities since 2014.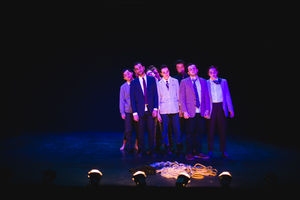 In The Woods Where The Men Work was written during the fall of 2017, in the wake of a series of devastating environmental disasters within the US. Amidst the fires and floods, the American government was denying climate change, and offering little to no aid to its claimed territories in the Caribbean. The Oof Theatre then arrived the question of their wacky, absurd, play: what are the limits of corporate denial? And just how bad does it have to get until lands and people are more important than capitalism?
"We imagined the armageddon, and a group of top officials, at the end of the world, tied to trees in the last forest on Earth, making elevator small chat as they cling with all their might to the charade that everything is fine and under their control," they said.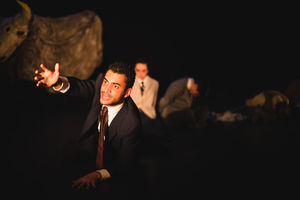 See their show to go on a journey rich with "the grand folly of our contemporary times" and the "deep magic of the inanimate, the natural, and the otherworldly," and to fall in love with a majestic, life-sized ox puppet!
Show dates and times
25.05. 18:15 – 19:00
26.05. 18:15 – 19:00
27.05. 18:15 – 19:00
28.05. 18:15 – 19:00
29.05. 19:45 – 20:30
30.05. 18:00 – 18:45
Venue: Malostranská beseda