---
Click the + sign to read more about all the juicy benefits for each option:
Friend of the Fringe 2024: 2,300 CZK (approx 95 EUR)
Want free tickets? Want to get the best seat in the house? Then check out our membership scheme for 2023 with an exclusive list of amazing benefits for members.

Limited to 100, so don't miss out on your chance to be a part of the Fringe family!
Benefits:
A free Fringe Pass which gives you free entry to 5 performances - worth 1,250 CZK (approx 40 EUR)
Priority entry to Fringe shows - choose the best seats in the house
Discounts at selected Fringe eateries
Friend of the Fringe membership card
To become a Friend please get in touch with Fringe Director Steve Gove
Want to go a step further? Check out the Best Friend and Fringe Angel options below.
Best Friend 2023-2024: 5,000 CZK (approx 200 EUR)
Best Friends also receive a free Fringe Pass (see 5 shows for free!) and exclusive priority access to shows (get the best seats in the house). Donations of 5,000 CZK (approx 200 EUR) have a huge impact on our budget and will help us to do thing such as:
Pay our Graphic Designer who created the wonderful festival branding and design
or Print 20 posters so we can promote the festival around the city and get more bums on seats for the artists!
or Pay a Venue Technician for 2 days so they can run the lights and sound professionally for our performers
To become a Best Friend please contact Fringe Director Steve Gove.
Want to go a step further? Check out our Fringe Angel membership below.
Fringe Angel 2023-2024: 10,000 CZK + (approx 400 EUR +)
Sponsorship can be financial or services 'in kind' to the value of 10,000 CZK (approx 400 EUR) or more.
Fringe Angels receive all of the above Best Friends benefits, and your donations enable us to cover significant costs such as:
A donation of 10,000 CZK - Boost our online marketing costs so we can tell more people about our amazing shows and sell more tickets for our artists!
A donation of 15,000 CZK - Pay for a Fringe Venue for 3 days for up to 15 performances
A donation of 20,000 CZK- Pay our Festival Production Manager who ensures the smooth running of all venues and coordinates our team of Venue Technicians
A donation of 25,000 CZK - Accommodate our Volunteer team for the Festival so they have a comfy place to sleep after their long shifts running the festival.
A donation of 200,000 CZK- you would be our heroes for ever!
To become a Fringe Angel get in touch with Fringe Director Steve Gove.
What do our supporters say?
'We believe in supporting theatre' - Katy and Charlie Bayless, Fringe Angels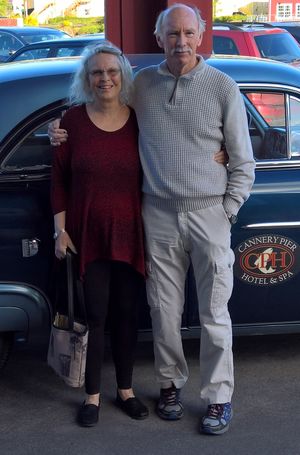 Long-term supporters of the Fringe, Katy and Charlie Bayless are based in Oregon, USA, but make the annual pilgrimage to Europe to attend and support the Fringe every year.
Their support has ranged over the years from sponsoring printing costs, to Friends of the Fringe membership.
"We love the Prague Fringe Festival. We are intrigued by live theatre performances. The performers are putting themselves out there with these fantastic personal creations. We have seen music, mime, puppets, comedy and magic on the stages to our great delight. We are animals when we go to the Fringe festival, doing our best to see all the performances we can.

We believe in and enjoy the arts. We believe in supporting theatre. We consider the prices charged a bargain and donating for extra expenses is something we can do."

All about Friends of the Fringe...
Update on Emergency Fundraising (6.2022)
The 21st Prague Fringe was a huge success. What a week! After a nail biting year we more than pulled it off. Thank you all.
We are forging ahead with plans for the 22nd Prague Fringe which we plan to hold in May 2023.
Despite the struggles caused by the pandemic and its after-effects, and losing a significant funding partner at the beginning of 2022, at short notice, we are still here and are determined to continue to deliver our very special Fringe to you, our very special Fringe Family.
So far we have raised a significant percentage of our gap in the budget but we are not out of the woods yet. The aim is to raise 200,000 Kč (approx 8000 EUR). Although it might seem like a small amount in the grand scheme of things, for our festival which operates on a very low budget, it equates to around a fifth of our overall expenditure.
We have adapted our Friends of the Fringe scheme to provide you a way to help us to reach our target from as little as 2200,-Kč (approx 90 EUR).
A note from the Director (5.9.2022 newsletter):
It has been in incredibly challenging two years for all of us.
For us here at Prague Fringe too.
Bluntly put, the 21st year of Prague Fringe may well be the last.
We have worked hard over the last two decades to bring a quality, fun event to you which had blossomed into an extremely well attended, globally recognised and highly praised festival both here in the Czech republic as well as across the world. We carried on bravely during the pandemic and created some unique events - the Fringe hug from near and far was palpable.
Our upcoming September Fringe will be an exciting and vibrant one, with a multi award-winning programme we expect sales will be strong. Going forward into 2023 is the challenge. With the loss of a major partner at the start of the year it shook the foundations of the organisation quite significantly.
We are urging our biggest fans (that's you!) to consider becoming Friends, Best Friends, or Fringe Angels to help us keep our Fringe alive and carry forward into 2023.
Best regards and long live Fringe!
Steve Gove
Founder and Director