The Prague Fringe Festival is entering its 18th year. We are very proud of what's been achieved so far - from the very first Fringe back in 2002, to the world-renowned event we enjoy today.
Because we give the majority of income earned from ticket sales directly back to the artists who make our festival so special, so we rely heavily on support from public funding and sponsorships from companies and individuals for the day-to-day running of the festival and particularly for any improvements/developments to our existing systems and operations.
We have developed our Friends of the Fringe scheme to provide you, our followers with some really easy ways to show your support from as little as 1000,-Kč per year (approx £33/€38). The funding received from this membership scheme is used directly to help ensure the festival continues to exist, and to make the Fringe even better in the future (plus there are some great 'Fringe benefits' for members too!)
Friend of the Fringe
A simple and affordable, yet hugely valuable way to show your support.

Your sponsorship will be used to improve existing systems, develop exciting new ideas and generally help to take the festival on to the next level. Plus you get the satisfaction of knowing you've had a direct and positive impact on the future success of the Fringe.
As a thank you for your support we are pleased to offer a range of benefits for all of our Friends:
• Invitation to a special opening gala event for the first 50 members (event details tbc)
• Friend of the Fringe membership card
• Discounts with partner businesses (20% off at La Loca Restaurant, Designum Cafe, Roesel and Sousto)
• 10% discount on fringe merchandise
• 5x free 'Take a Chance' tickets (worth 1,000 CZK, terms apply*)
Friend of the Fringe 2019 season: 1,000 CZK (Memberships for 2019 will be on sale soon!)
* Take a chance tickets can be redeemed at any performance of any show at the festival, subject to availability. They do not guarantee entry to a sold-out show and you may be asked to wait whilst all paying customers are served. Take a chance tickets are never detrimental to the artist's ticket sales.
Best Friend of the Fringe
Best Friends receive all of the above Friends benefits, plus:
• Invitation to exclusive Best Friends welcome event with the directors during the Fringe
• Free advance copy of the printed programme posted to you, wherever you are in the world
• A welcome gift
• 5 extra free 'Take a Chance' tickets (10 in total, worth 2,000 CZK, terms apply)
Best Friend of the Fringe 2019 season: 4,000 CZK
Fringe Angel
Sponsorship can be financial or services 'in kind'. Some examples of existing support include printing additional posters and merchandise, accommodating staff, sponsoring videography and photography and advertising on trams and buses.
Fringe Angels receive all of the above Best Friends benefits, plus:
• Invitation to exclusive sponsor and partner event with the directors during the fringe
• Recognition on our website (optional)
• Plus additional tailor-made benefits depending on the value of the support.
Fringe Angel 2019 season: Support with a value of more than 4,000 CZK
Request more info here
---
'One of my highlights of the year' - Mark Matthews, Fringe Angel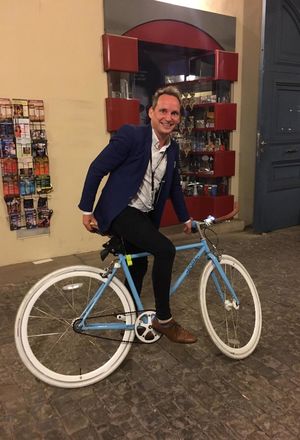 Now approaching his third year as a Fringe Angel, Mark generously supports the festival by hosting international members of the Fringe management team in his apartment 'Old Crooked Beams' which is perfectly situated in the heart of the Fringe zone.
"I discovered the Fringe in 2004 and have not looked back since. I have seen some incredibly memorable shows and met some amazing people in my 14 years as a Fringe devotee. Prague fringe has an authenticity and a soul that's hard to match. All the performers are accessible and always up for a chat in the bar or late night party in many cases.
I'm delighted to be able to support the fringe and it really is one of my highlights of the year!"

'We believe in supporting theatre' - Katy and Charlie Bayless, Friends of the Fringe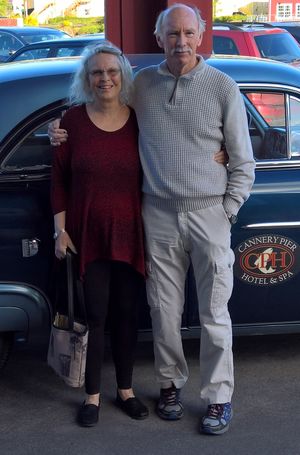 Long-term supporters of the Fringe, Katy and Charlie Bayless are based in Oregon, USA, but make the annual pilgrimage to Europe to attend and support the Fringe every year.
Their support has ranged over the years from sponsoring printing costs, to Friends of the Fringe membership.
"We love the Prague Fringe Festival. We are intrigued by live theatre performances. The performers are putting themselves out there with these fantastic personal creations. We have seen music, mime, puppets, comedy and magic on the stages to our great delight. We are animals when we go to the Fringe festival, doing our best to see all the performances we can.

We believe in and enjoy the arts. We believe in supporting theatre. We consider the prices charged a bargain and donating for extra expenses is something we can do."