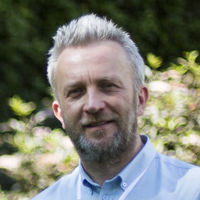 Steve Gove - Founder, Director and CEO
Steve's Fringe life started as a manager at the Assembly Rooms on George Street in Edinburgh in 1996. After relocating to Prague in 1997 and travelling back and forth to Edinburgh for four seasons, the idea of starting a Fringe in Prague came to him. Over the years Steve has travelled regularly to Fringes around the world, from South Africa to Stockholm, from Amsterdam to Bergen, playing a role as a judge, guest Fringe Director and Fringe consultant. He regularly visits Fringe World, Perth as well as Adelaide Fringe in Australia where he helped set up the Weekly Awards and Honey Pot Scheme. Steve was a Director on the board of the Edinburgh Festival Fringe Society from 2008 until 2011.
2020 will be Steve's 25th year visiting Edinburgh during Festival season.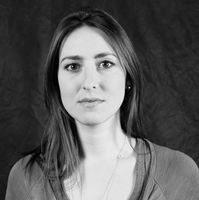 Rosie Dwelly - General Manager
With a background in event and arts management in the UK, Rosie has been involved with the Fringe since relocating to Prague 2008, from the early years volunteering as part of the FOH team, to her role as General Manager which she took on in 2017. When not managing the Fringe, she is also the company manager of Prague Youth Theatre.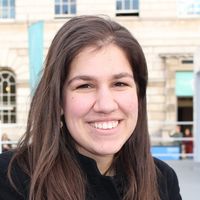 Alena Kopečná - Office and Development Manager
Alena caught the Fringe bug in 2012 when she moved to Prague from the Czech mountains to study English Literature. She joined the team as a volunteer pre-sales assistant and quickly got addicted – she's seen about 250 shows and counting! She took up her current role as the Office and Development Manager in 2016. Alena's main goal is to introduce the Fringe to as many Czechs as she can!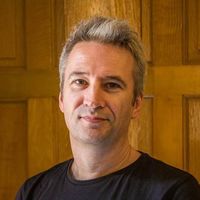 Angus Coull - Co Founder
Angus was instrumental in the establishment of the Prague Fringe having moved to the city to help set up this new event, securing funding and helping build relationships in its early years and has continued to support the event even after a move to New Zealand. Angus produced a series of TV shows about the Edinburgh Festival and Fringe for STV. He currently co-runs Fairtrade sports ball business Bala Sport in Glasgow.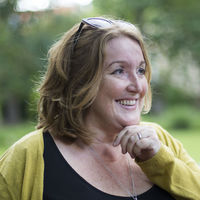 Carole Wears - Co-Founder
On board and living and breathing Prague Fringe since the day it was born, Carole has had a pivotal role in many aspects of the festival's life over the years including co-founding and helping to establish the event, selecting, programming and scheduling work, artists liaison, creating and developing the ongoing volunteer scheme and practically everything in between! Carole is currently producing theatre and comedy nights in the North East of England as CaroleW Productions.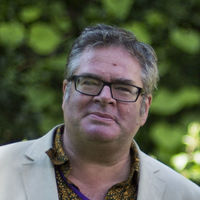 Giles Burton - Co-Founder and Technical Director
Giles met Steve Gove while working for the Assembly Rooms in Edinburgh Fringe and in 2000 was invited to come on board during the planning of the inaugural Prague Fringe....he has been technical Director ever since! Now based in New Zealand, Giles produces and directs theatre and is the founder of Nelson Shakespeare. He is the producer of the Nelson International Buskers Festival and his company three bridges productions creates theatre and events. For several years he was based in Hong Kong producing corporate events alongside theatre.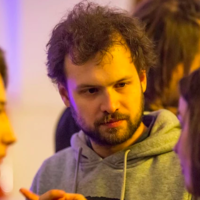 Adam Svoboda - Venue and Production Manager
Adam joined the Fringe team in 2018 working with the Technical Director to ensure the smooth running of the venues and technicians. He is also the production manager of Prague music and events venue Potrvá, and runs a theatre production company Drama Label promoting new work in association with DAMU (The Academy of Performing Arts in Prague). He also works with Prague Quadrennial.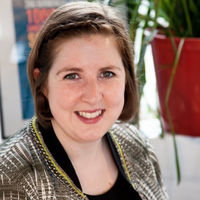 Alison Brodie - Operations Manager
Ali is a producer and programmer currently working in Aberdeenshire, Scotland. She has experience of UK touring, site specific work, participatory work and has always had a keen interest in festivals. Alongside jobs with The Marlowe Theatre, Birmingham Opera Company and Curve Theatre, she first volunteered with Prague Fringe in 2011 as a Festival Assistant and over the years has progressed to Operations Manager. She loves seeing the international fringe family of performers, audiences and assistants grow every year and can credit Prague with 9/10 of her most unique theatre going experiences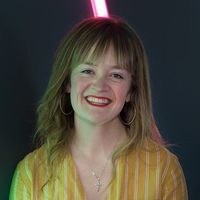 Rebecca Sweeney - FOH Manager
Becca has been involved with Prague Fringe since 2014 (and has no intention of stopping any time soon!) and moved from volunteer to supervisor and became FOH Manager in 2019. Her love for all things Fringe stemmed from living in Edinburgh where she worked for Assembly Festival for many years before becoming Duty Manager at Summerhall. She's also a playwright with TwentySomething theatre company and has had the great joy of seeing her work presented as part of Prague Fringe twice.