Rendered Retina return to Prague after their successful 2018 run with 'Form'. 3 performers play 18 characters in a high-energy version of this hidden gem with original songs, a wooden box and a laugh a minute!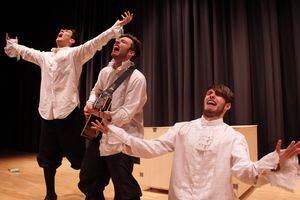 Members of Rendered Retina, Alex Mangan, Tom Mangan and Jordan Choi, and have all been best friends since they were 13 years old. In secondary school they began devising together, playing in an amateur punk rock band. "We stopped [playing gigs] when we got serious about making theatre together (and when we realised how awful we were!)," said Jordan. Officially, they have been a company for three years and in 2015 they produced their first professional show.
'Timon of Athens' was created due to both vanity and the childhood friends' stubborn natures.
"We were having a conversation with a theatre director about ideas for a new show and he said "there's this Shakespeare play called 'Timon of Athens', don't worry you wouldn't have heard of it," and we were so insulted. Of course, he was right and we hadn't heard of it, but how dare he assume that we hadn't!"
"We decided to create our own theatrical adaptation mainly out of spite. But we decided it would be fun to make our lack of knowledge about the play the whole point of the show: If we didn't know it, and everyone we'd spoken to about it didn't either, then let's find out together what's great about this Shakespeare classic," said Jordan.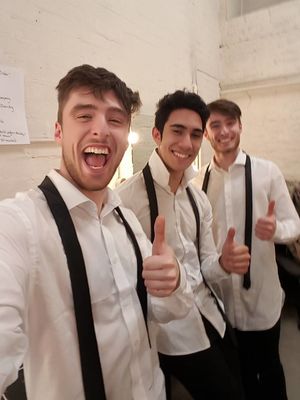 As it is Shakespeare's least known play, you may never get another chance to see this forgotten classic! The show is a lively, chaotic and comedic adaptation told using songs, hats and a big wooden box!
Show Dates and Times:
24.05. 17:00 – 17:50
25.05. 17:00 – 17:50
26.05. 18:30 – 19:20
27.05. 18:30 – 19:20
28.05. 20:00 – 20:50