A love story loosely based on the balcony scene from Romeo and Juliet but set in an airport at 4am and without the ensuing sex and stabbing. Instead we offer fast-paced dialogue, the occasional camel and the ending that Juliet deserved.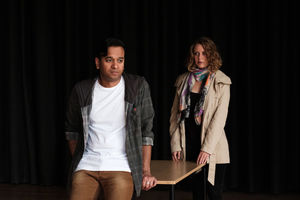 Blue Goat Theatre is a new company founded in 2018 by writer, Fiona Leonard. Daniel Hees is the director of the company and actors Shaheryar Shah and Anna Trier joined the cast in 2018. Prague's 2019 Fringe will be their third Fringe Fest, coming after Reading Fringe and Edinburgh Festival Fringe last year.
The show they will be performing, J'n'R, was written during the US Trump election in 2016.
"I wanted to capture the shift that was happening around women's place in society and how conversations around relationships were changing. Women were articulating their experiences in very different ways and with that naturally came a reevaluation by men about how they should communicate and connect. These are unsettling times, but also exciting and filled with possibility," said Fiona.
They say that the biggest reason to come to their show is for the ending.
"We're yet to do a performance where we don't wind up having long and involved discussions about why it ends the way it does!"
'A brilliant twist on a classic which plays with Shakespeare's work in intelligent ways. Worth seeing just for the ending!' (Audience review, Edinburgh Festival Fringe 2018)
Show Dates and Times:

29.05. 22:45 – 23:40
30.05. 22:45 – 23:40
31.05. 21:15 – 22:10
01.06. 21:15 – 22:10

Venue: Divadlo Kampa

Back