Fringe Hack: How to Use Public Transport
Many Fringe venues are within walking distance, but when you want to get around the city or back to your accommodation, public transport is the way to go.
1 Buy a transport pass in advance. Prague transport tickets are good for all public transport, from the metro to trams, and buses. A three-day unlimited pass is only 310 CZK (= 12.25 EUR).
If you prefer to use single–ride tickets, we recommend keeping a few in your pocket. These are available at some tram and metro stops, or in corner stores, but they aren't always easy to find, (or able to take large bills or credit cards, or open at the hour you need one..). The peace of mind is worth investing in advance.
2 Validate your pass (and keep it with you). If you've got an unlimited transport pass, you only have to validate it once and put it in your wallet. Single-ride tickets are good for either 30min/24 CZK (= 1 EUR) or 90min/36 CZK (= 1.5 EUR) from the time you validate them. Look for yellow boxes to stamp the time when you enter a metro station, or onboard trams and buses.
Transport officers who monitor the lines may ask riders to produce their ticket at any time – and they don't take kindly to apologies or explanations, no matter how valid.
3 Know your times Prague transport runs twenty-four hours a day, but there are limitations. The metro stops running between midnight and 5:00am, while night trams and buses run all night with limited stops.
For more tips, check out the YouTube videos by our friends at Prague Honest Guide on Using Public Transport and Prague's Night Trams.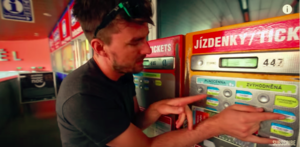 Fringe Hack: Where to Eat
No matter the hour, we've got ideas on where to find delicious, reasonably priced food.
Lunch
Start your daily Fringe journey with a delicious, freshly-prepared lunch at La Loca Restaurant at Mosaic House. Their sharing menu of Mediterranean and Middle Eastern-style cuisine is ideal for groups of Fringe-goers dining together.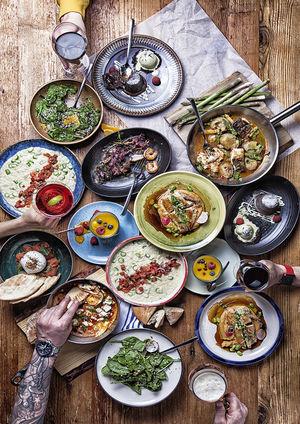 Afternoon tea
Keep your energy levels up before your first show (open 9.00 – 18:00) with some caffeine and a hand-made sweet treat at Designum Café. Look out for their freshly baked Fringe cupcakes and competition to win a free night's stay at the neighbouring Golden Key Hotel.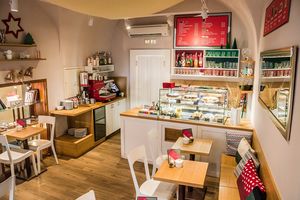 Dinner
Head to Roesel, a calm hideaway next to the Charles Bridge, and fill up on simple, high quality food and microbrews. Choose the Fringe dish of the day for a wholesome bargain! This local favorite has extended their hours until midnight during Fringe.
Late night bites
Call in at Sousto for authentic Belgian fries, waffles and crepes as well as craft beers and soft drinks. They're open until 2am every night during the Fringe.
Still hungry? We've got a full map and more restaurant recommendations here.
TOP TIP! Sign up for Friends of the Fringe membership and get discounted rates at each of these locations!
Fringe Hack: Insider Advice
- For a free preview to work out which shows you might want to see, try our Family Fringe or Fringe Sunday events – no RSVP required but arrive early to grab a seat and a drink before it gets busy!
- Buy tickets in advance: they're cheaper and they guarantee you a seat. Some venues only have 20 seats and do sell out!
- Wear comfortable shoes. You'll be doing a lot of walking between venues and it is mostly cobblestones.
- If you're lost in the programme and don't know where to begin, pick a venue and stay there for the evening. Be adventurous and take a chance on shows – you might be surprised what you see!
- Head to the at the fringe club after the shows to mingle with the performers, staff and fellow fringe-goers and catch tips for the next day.