Fringing with your family
Every year, the Prague Fringe Festival selects some amazing kid-friendly performances for families to have a good time together. 2019 is without exception. Theatre, music, magic...you name it. Across the 9-day festival in beautiful Mala Strana near the Prague Castle, our venues will be alive with laughter and happiness and we hope that you can join us. All age categories are covered in our programme.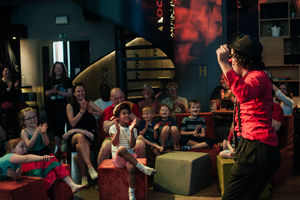 For all ages:
The Pied Piper is a one-woman comical and musical show performed by Hanna Marouchka. It breathes new life into the very old bones of this mischievous fairy tale. It asks the question "what will our young make of the world we leave them?"
Based on 16th-century material, this new musical comedy by Hans Kellerman features a puppet company struggling with the Faust tale. Edinburgh Evening News commented, "The script serves up enough thrills and spills to engross kids with a wry wit and social commentary that adds another layer of interest for adults."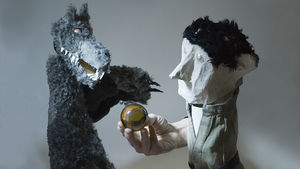 A Moon Child gets trapped on Earth – how will she find her way home? An epic adventure will be created by masks, puppetry, breath-taking original music and plenty of wonders. Though fun, we still need to face our loss, longing and some unlikely friendships.
Inspired by the short stories Christmas Tales of Terror by Chris Priestley, Cia Tipot combines puppetry and storytelling using children's toys and baking utensils to create a captivating and eerie Christmas world.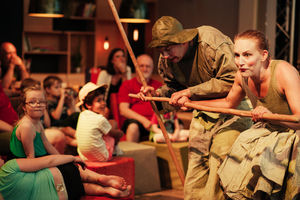 For teenagers:
Are you having trouble to find something for your teenager boys and girls who are over the age of puppetry? No worries. We got more!!!
A commedia dell'arte lover or a cinema fan? Four clowns. One clapperboard. One hundred legendary film moments. 60 minutes. Theatre company Be•wilder will take you on a thrilling joy-ride.
What can be better performance for teenagers than a one created by them? Inheritance is the one. Using 'The Night, The Pharmacy, The Street' as a catalyst, two award-winning youth theatres come together to devise an original double-bill that explores the cyclical nature of life, from a Generation Z perspective.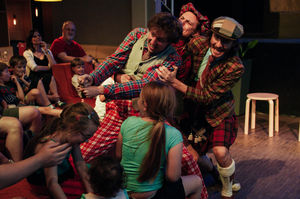 Shakespeare reimagined:
Are you a Shakespeare lover? Are you trying to find something classical and educational? Don't forget our Shakespeare collection.
The Shakespeare's least known play may catch you by surprise with this new lively, chaotic and comedic adaptation told using songs, hats and a big wooden box!
Much Ado about ...Beatrice and Benedick
A rock & roll retelling of Shakespeare's beloved rom-com about two pairs of lovers swear they will never marry anyone.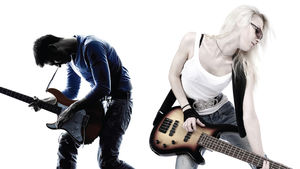 How to book?
Tickets for all shows can be purchased via the links in their individual programme listings.

We strongly recommend booking in advance - not only to secure your seats (shows often sell out), but also because advance tickets are the cheapest (150kc for children/students, and 170kc for adults). There are no concessions for tickets purchased 'on the door' - these tickets cost 200kc.
(Children under the age of 3 go free of charge when sitting on a parent's lap.)

Full details on the tickets page.

Join our celebration of the Prague Fringe 18th birthday by becoming a friend of the Fringe and enjoy an exclusive 18% discount on all the shows that you are interested to see.

Back